Hardwood Flooring Installation (What to Expect)
Due to the nature of real hardwood, variations are a normal occurrence. These variations may include slight differences in color, knot holes, and grain differences – all of which add to the beauty of having real hardwood floors in your home!
FLOORING GRADES
Because of the many types of hardwood and variations of each species, our customers have several options regarding the floor grading. Rest assured, we only use and purchase high quality flooring and the grading does not deter from this. Grading is simply the amount of "character" you prefer in your floor! There are far too many variables to list them all. Each species of floor has its own features as well. Here are the few most commonly used flooring grading:
Select Grade – Very consistent in color and will contain a minimal amount of heavy grain variations, mineral streaks, knots. Etc.
#1 Hardwood Flooring – Will contain some color, grain, and small knot hole variations with a combination of cleaner boards.
#2 Hardwood Flooring – Contains the most variety of color, grain, and large(open) knot holes.
Rustic and Reclaimed Hardwood – The names say it all and will vary depending on the flooring species, etc.
One thing we love about working with real hardwood is that every project is unique. This is why we prefer to provide customized suggestions for each home, as well as customized estimates that take into account unique hardwood flooring options–such as feature strips and boarders–and other customer preferences.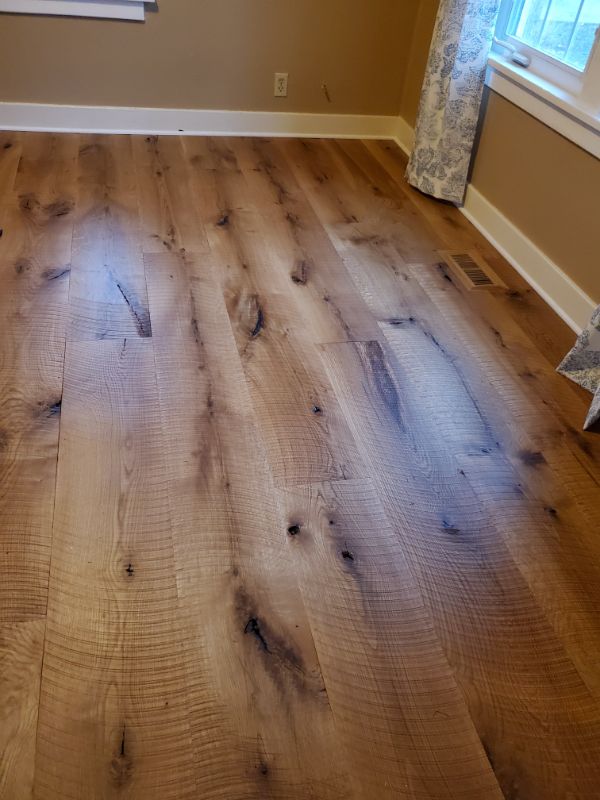 BEFORE AND AFTER HARDWOOD INSTALLATION
Prior to and following your hardwood flooring installation, here are a few things to know about our general process. For general hardwood floor care information please view our FLOOR CARE page.
Furniture/Appliance Removal and Replacement
Unless noted as a line-item on the invoice, removal and replacement of furniture and appliances is the responsibility of the homeowner.
Plumbing Fixtures
We do not remove, modify, or reinstall plumbing fixtures (toilets, water lines, etc.)
Floor Preparation
Depending on the scope of your project, we will remove old flooring and prepare the subfloor prior to installation. This may include carpet removal, removing of tile or vinyl, etc. Floor prep will be specific to your project. The cost for floor prep varies per project and includes all tear out and disposal unless otherwise noted on the estimate.
For preparation prior to refinish, please visit our HARDWOOD FLOORING REFINISH (WHAT TO EXPECT) page.
Baseboard Touch-Ups
For baseboards not removed, minor paint touch ups may be required (usually in the case of staining), and are the responsibility of the homeowner
Baseboard Removal and Replacement
If included as a line-item on the invoice, King Hardwood Floors, LLC will remove baseboard, clean off old caulking, de-nail and pin back after job is completed. Homeowner responsible for touching up nail holes, new caulking, paint touch-ups, etc.
INSTALLATION PROCESS
Phase 1 — Once the subfloor is ready, the installation of the raw hardwood will begin. This varies from one or more days depending on the width of flooring and the number of rooms we are completing.
Phase 2 – Once the installation is complete, the sanding process begins. We use a 99% dust containment system but may still hang plastic barriers per customer request.
Phase 3 – The seal coat is applied and usually is done in a single day regardless of the square footage of the job.
Phase 4 – The top coat (also considered the FINAL coat) is applied.
Variations may include an additional coat of finish and is generally an additional charge to our normal rates.
NORMAL OUTCOMES
The following outcomes may or may not be present upon completion of the new hardwood installation, but are considered "normal" after final coat has cured (72 hours):
Minor sanding irregularities that do not take away from the overall appearance of the floor and are not noticeable from a standing position.
Minor, infrequent applicator streaks or lines that are not noticeable from a standing position in normal lighting.
Minimal amounts of dust, hair, applicator fibers, foreign contaminants in final coat, so long as they don't take away from overall appearance when from a standing position in ambient lighting. In most cases, these will wear away after normal use of the floor.
Discoloration over time due to light-sensitive species, direct sun exposure, or areas covered up by furniture, appliances, or area rugs.
Seasonal gaping – Depending on the normal temperature and humidity level in the home, this may or may not occur. Wood is a natural product and will shrink and expand. We take this into consideration during the installation process and make every effort to allow for these fluctuations so your hardwood floor experiences the least amount of change all year through. We encourage you to ask us about the possibility of this outcome while discussing the species and width options for your hardwood flooring.